Explore the amazing  Paradise Coast of Southwest Florida – Visit SWFL attractions, golfing, fishing, birding, boating, hiking, and more.
Be entertained and dine locally at our amazing Paradise Coast restaurants, pubs, or cafes. Our suggested Florida Realtors will help you find your ideal South Florida home, condominium, or golf resort accommodations.
Planning a Paradise Coast vacation? We can help – browse Florida vacation home rentals, vacation activities, hiking, fishing, biking, and more.  Paradise Coast Living is dedicated to helping you vacation, visit, or live in Paradise.

Paradise Coast Living
Naples FL | Marco Island | Everglades
Explore the activities, attractions, and restaurants, share local business news, Realtor listings, housing, and vacation rentals, and more. Discover amazing Florida products, wedding venues, and extraordinary Everglades nature photos. Thank you for sharing, and bookmarking Paradise Coast Living – Life on Marco Island, Naples FL, the Everglades the Paradise Coast of Southwest Florida.
Welcome to Paradise Coast Living – we help you enjoy life in the beautiful Gulf Coast of Southwest Florida – a one-of-a-kind place we call Paradise Coast.
Support local restaurants – visit our Naples FL Takeout Restaurant Guide.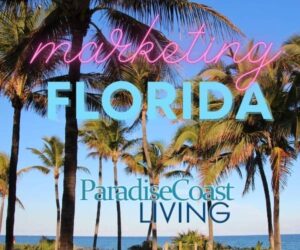 Thank you for supporting locally owned businesses in southwest Florida.
Reach new customers and expand your reach by becoming a trusted SW Florida business marketing partner.
Paradise Coast Living supports "White Hat SEO Marketing" and freedom worldwide.
SWFL Paradise Coast
From historic Fort Myers, home of the famous Edison Museum, MLB spring training home of the Boston Red Sox – Red Sox Network, and Minnesota Twins. This is SW Florida and it includes great golf resorts, amazing restaurants, unique clothing boutiques, art, culture, and white-sand beaches. From Venice to the very tip of Chokoloskee in the Florida Everglades. We seek out and share interesting places to visit, things to do, and help you vacation or relocate to the Paradise Coast of SW Florida. Whether you live here, vacation here, or are visiting Everglades National Park, or on business in Bonita Springs, Cape Coral, Estero, Naples, Marco Island, Fort Myers, or Immokalee.
Don't leave Paradise without spending time shopping at our local stores and unique boutiques. Designer outlet stores, gift shops, and made in Florida shops.
Visit southwest Florida and stay at one of the many fine beachfront hotels, and downtown luxury inns, or rent a home with your own private pool. Southern FLA is the perfect place to buy a second home or condo. Our suggested experienced south Florida Realtors can make your relocation easy and fun. Meet the ideal Florida Real Estate agent to help you find your dream home.
Enjoy life outdoors. There are more golf courses per capita in Southwest Florida than in any other place in the US. With challenging PGA Golf Courses, convenient Marinas, and plenty of Florida sunshine, it's easy to have outdoor fun every day!
Take a private plane excursion to Key West and points beyond or hop aboard the Key West Express for the 90 miles trip from the Paradise Coast to Key West. Experience, some of the most talented chefs in the nation. Shop the boutiques and art galleries in Old Naples, Marco Island, or Downtown 5th Avenue Naples. Sample a variety of ethnic and casual dining at our local restaurants. Swim, walk, on white-sand beaches with turquoise blue water, rent a boat for a self-guided tour, or take an eco-tour, nature tour, shelling adventure or create your own Everglades adventure tour with a licensed guide.
SWFL Living is Paradise Coast Living
Our experienced, professional, local Realtors will show you all about the famous "Florida Lifestyle" – and can make your life in Paradise Coast just what you imagine. View homes for sale, FL business, and commercial real estate brokers, and our suggested Florida Real Estate agents.
Everglades Vacation Activities & Attractions
Fish the 10,000 islands of the Gulf of Mexico it's an unforgettable experience. USCG-approved Fishing Guide will provide everything you need to go fishing for over 1443 fish species in the Gulf of Mexico and surrounding backwaters of the Florida Everglades. The best fishing guides will take you to their favorite secret fishing spots. The Paradise Coast (aka: Gulf Coast of Southwest Florida) offers sensational and interesting Eco tourism vacations for naturalists, nature lovers, and families that may include bird watching, manatee viewing, dolphin boat tours, stingrays, alligators, eagles, osprey, and even Florida panthers.
Watersports, backwater fishing, nightclubs, comedy clubs, casino gambling, concerts, live performances, wedding destination venues and so much more to see and do – including soaking up the sun by the pool with a great book. The fun and excitement of life are simply better when you are Paradise Coast Living.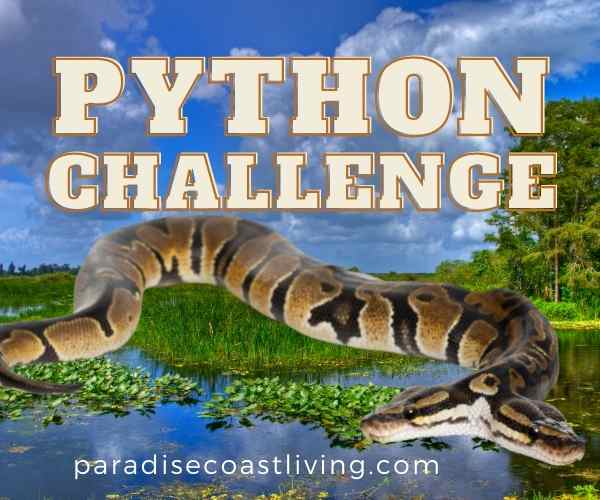 The Python Challenge is a one-of-a-kind Florida Everglades Event that is helping to save Florida Wildlife.
Read about the Florida Python Challenge.