Florida Fishing Captains
USCG Licensed Boat Tours & FL Fishing Charters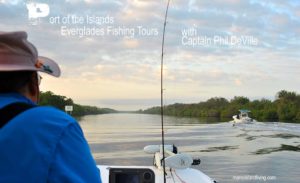 Fish Florida is more than just a saying – it's part of the Florida lifestyle. Paradise Coast SWFL Fishing is world famous. The Gulf of Mexico presents deep water saltwater ocean fishing charters that will take you out to find the big fish in the deep waters of  Gulf of Mexico.
The backwaters or near-shore fishing here is sensational with fully equipped and licensed charter fishing guides that will bring you and your family a day of fun on the water.  Everglades National Park and the southwest 10,000 islands is a fishing paradise that includes the bonus of simply stunning beautiful Florida scenery.
Go inland for fresh-water Florida Bass Fishing options. Fishing Boat Rentals are available but we suggest utilizing the services of a seasoned, licensed fishing captain. The Paradise Coast fishing options include deep sea charters, private fishing boat tours, Everglades fishing trips, backwater guided fishing, pontoon boat rentals, and more.
Share your Florida Fishing Captain news, catches, or suggestions. Thank you for visiting Paradise Coast, Florida. Contact us.
Everglades & Gulf Coast Fishing Captains – Charter Fishing Tours


Everglades City Fishing Charters, currently leaving from Everglades Bait and Tackle, Everglades City, FL | 239-253-9926
Experience the wonder of the 10,000 islands of SWFL. Fish the protected bays and rivers of the Islands and Everglades National Park. Fish among the mysteries of wrecks, hard bottom reefs, and offshore towers. Seek some of the most exciting game fish that call the Florida Everglades Home.
Everglades City Fishing Charters - Everglades City, FL
---


Sunshine Tours and Fishing Charters, Rose Marina, 951 Bald Eagle Dr., Marco Island, FL | 239-642-5415
Sunshine Tours. Fish the 10,000 islands, the best in Off Shore, Back Water, and Near Coastal Fishing Charters. We know where the fish are. Also offering Marco Island Shelling Trips, and Sightseeing aboard one of our four fishing boats. Since 1984, Sunshine Tours has provided unsurpassed fishing charters, and on-the-water experiences for locals and visitors alike. Shared and private charters available. Contact us to book your Marco Island fishing charter.
Sunshine Tours & Charters - Marco Island, FL
---
Fishing the 10,000 Island SWFL Everglades
The Ten Thousand Islands are a chain of small islands and mangrove islets off the coast of southwest Florida. It is a popular destination for fishing enthusiasts as the area offers a diverse range of fish species and stunning scenery. Some of the popular fish species you can expect to catch in the Ten Thousand Islands include:
Snook – a prized game fish known for its hard fight and acrobatic jumps
Redfish – a hard-fighting, copper-colored fish that can be caught year-round
Tarpon – a silver king that can weigh over 100 pounds and is known for its spectacular jumps
Trout – a tasty fish that is abundant in the area and can be caught using a variety of methods
Permit – a challenging fish to catch due to its elusive nature and powerful fighting ability
Shark – various species of sharks can be found in the waters surrounding the Ten Thousand Islands.
When planning your fishing trip to the Ten Thousand Islands, it is recommended to hire a fishing charter with experienced guides who know the area well. Look for a charter that specializes in the type of fishing you want to do, whether it's fly fishing, light tackle, backwater, near shore, or offshore fishing. How to Choose a Florida Fishing Captain.
Check the credentials of the charter company and the experience of the guides.
Ask about the equipment provided by the charter, and whether they offer live bait or artificial lures.
Inquire about the length of the trip and the cost, as well as any additional fees for licenses or permits.
Consider the size of the boat and the number of people it can accommodate.
Read reviews and ask for recommendations from other anglers who have fished in the area.
Overall, the Ten Thousand Islands offer a fantastic fishing experience with a wide variety of fish species and breathtaking scenery. With the help of a knowledgeable fishing charter, you are sure to have an unforgettable fishing adventure.
Permit fish (Trachinotus falcatus) is a species of game fish known for their hard-fighting and challenging nature, making them a popular target for sport fishermen.
Permit fish are typically silver or gray in color with a darker dorsal fin and a forked tail. They can grow up to 4 feet in length and weigh up to 60 pounds, although the average size is around 10-20 pounds.
Permit fish are known for their elusive nature, making them a challenging fish to catch. They are often found in shallow flats and channels, where they feed on crabs, shrimp, and other small crustaceans. Anglers often use live crabs or shrimp as bait, or they may use artificial flies or lures to imitate the fish's natural prey.
Due to their challenging nature and delicious taste, permit fish are highly prized by anglers. However, they are also a protected species in many areas, and strict regulations may apply to their harvest. It is important to check local fishing regulations before attempting to catch permit fish and to release any undersized or protected fish to help ensure the sustainability of the species.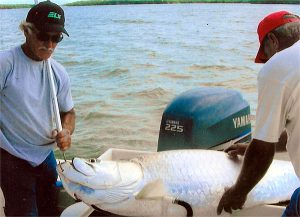 Tarpon fishing is a popular sport fishing activity in the Everglades and the Ten Thousand Islands of Southwest Florida. Here are some of the best techniques for tarpon fishing:
Fly fishing: Fly fishing for tarpon is one of the most popular and exciting techniques. Anglers typically use large, colorful flies that imitate tarpon's natural prey, such as crabs or baitfish. Fly fishing for tarpon requires skill and patience, as it can take some time to get the fly in the right spot and to get the fish to bite.
Live bait fishing: Live bait fishing is another effective technique for tarpon fishing. Anglers typically use live crabs, shrimp, or baitfish as bait. The bait is typically suspended under a bobber or free-lined in the current, and the angler waits for the tarpon to take the bait. Once the fish is hooked, it can put up a hard fight and make spectacular jumps.
Jigging: Jigging is a technique that involves using a heavy jig with a soft plastic tail that imitates a baitfish. The jig is bounced along the bottom, mimicking the movement of a struggling baitfish. Tarpon can be caught using this technique in deeper water.
Trolling: Trolling involves dragging lures or baits behind a moving boat. This technique is effective for covering a lot of water quickly and can be used to locate tarpon in open water. Once the fish is hooked, the boat is typically stopped to fight the fish.
Drift fishing: Drift fishing involves drifting along with the current while using live bait or lures. This technique is effective for covering a lot of water and can be used to target tarpon in channels and other areas with strong currents.
In general, tarpon fishing requires patience and persistence, as the fish can be elusive and difficult to catch. It is also important to be prepared for the fight, as tarpon are known for their hard-fighting nature and can put up a serious challenge for even experienced anglers.
FISHING SALE

| Photo | Title | Buy |
| --- | --- | --- |
| | RiverBum Tarpon Fishing Flies Assortment Kit with Fly Box, Poppers, Shrimp, Crab, Deceiver Flies for Fly Fishing - 14 Piece | On Sale |
| | Ghosthorn Fishing Rod and Reel Combo, Graphite Telescoping Fishing Pole Collapsible Portable Travel Kit with Carrier Bag for Freshwater Fishing Gift for Men Women | On Sale |
| | nako. 350 Pcs Tungsten Fishing Weights Sinkers Kit with Terminal Tackle Box | On Sale |
| | Redington Tropical Saltwater Fly Fishing Field Kit, 9' Medium-Fast Action Rod and Behemoth Reel, Saltwater Fly Line, Carrying Case | On Sale |
| | Surf Fishing Tackle Kit Ocean Saltwater Fishing Lures Surf Fishing Gear Fish Finder Rigs Pompano Rig Pyramid Sinker Weight Fishing Hooks Swivels Various Accessories | On Sale |
| | Sougayilang Fishing Rod Combos with Telescopic Fishing Pole Spinning Reels Fishing Carrier Bag for Travel Saltwater Freshwater Fishing-2.4M/7.87FT | On Sale |
| | PENN Spinfisher VI Live Liner Spinning Nearshore/Offshore Fishing Reel, HT-100 Front Drag, Max of 40lb | 18.1kg, Built with Carbon Fiber Washers,Black/Gold | On Sale |
| | Ghosthorn Fishing Rod and Reel Combo, Graphite Telescoping Fishing Pole Collapsible Portable Travel Kit with Carrier Bag for Freshwater Fishing Gift for Men Women | On Sale |
| | PENN Surfblaster III Longcast Fishing Reel - Long Distance Spool Surf Casting Reel for Saltwater Beach and Rock Fishing | On Sale |
| | PENN Fishing Penn Squall II Star Drag Conventional Reel and Fishing Rod Combo, Black/Gold, 30 Reel Size - 7' - Medium - 1pc (SQLII30SD2040C70) | On Sale |
| | Daiwa BG5000/1002MH Daiwa, BG Saltwater Pre-Mounted Combo, 5000, 6 + 1 Bearing, Spinning, 10', 2 Piece, Medium Heavy | On Sale |
| | EatMyTackle Blue Marlin Saltwater Spinning Rod and Reel Combo | On Sale |
| | PENN 6'6" Rival Level Wind Fishing Rod and Reel Conventional Combo, 6'6", 1 Tubular Fiberglass Fishing Rod with 2 Reel, Durable, Break Resistant and Lightweight | On Sale |
| | Costa Del Mar Men's Reefton Polarized Rectangular Sunglasses, Blackout/Green Mirrored Polarized-580G, 64 mm | On Sale |
| | Redington Fly Fishing Combo Kit 590-4 Path Ii Outfit with Crosswater Reel 5 Wt 9-Foot 4pc | On Sale |
Saltwater Fishing Lures For SW Florida

Saltwater Fishing Rods

Saltwater Fishing Reels

Sunscreen