Captains For Clean Water
SWFL Fishing Captains Nonprofit Environmental Organization
Captains for Clean Water is a non-profit organization based in Southwest Florida that is committed to protecting and restoring the water quality in the Paradise Coast region's waterways. The organization was founded in 2016 by Fishing Captains Daniel Andrews and Chris Wittman, two professional fishing guides who saw firsthand the negative impact that water pollution was having on the local environment.
The organization's mission is to educate the public and advocate for policy changes that will help improve the water quality in Southwest Florida. They work to raise awareness about issues such as harmful algal blooms, red tide, and other water quality problems that are affecting the region's marine ecosystems.
Captains for Cleaner Water has been involved in a number of initiatives to help improve water quality in Southwest Florida. These include advocating for the use of natural water storage and filtration systems, supporting the restoration of the Everglades ecosystem, and pushing for stricter regulations on agricultural runoff and sewage treatment.
The organization has also partnered with local businesses and other community groups to organize events and initiatives aimed at raising awareness about water quality issues in the region. These include beach cleanups, educational seminars, and other community outreach programs.
Overall, Captains for Cleaner Water is a vital organization working to protect the fragile marine ecosystems of Southwest Florida and ensure that future generations can enjoy the region's natural beauty and resources.
There are several ways that you can help support Captains for Cleaner Water and their mission to protect and restore the water quality in Southwest Florida:
Make a donation: You can make a financial contribution to the organization to help fund its advocacy efforts and educational programs.
Volunteer: Captains for Cleaner Water often relies on volunteers to help with their events and outreach programs. You can contact the organization to find out about volunteer opportunities.
Spread the word: You can help raise awareness about water quality issues in Southwest Florida by sharing information about the organization on social media or with your friends and family.
Participate in events: Captains for Cleaner Water hosts a number of events throughout the year, including beach cleanups, seminars, and other educational programs. By participating in these events, you can help support the organization and learn more about water quality issues in the region.
Advocate for change: You can contact your elected officials and urge them to support policies and initiatives that promote clean water in Southwest Florida. By advocating for change, you can help make a difference in protecting the region's fragile marine ecosystems.
Visit the Captains For Clean Water Website – https://captainsforcleanwater.org for more information or to make an online donation.
Share your Florida Fishing Captain news, catches, or suggestions. Thank you for visiting Paradise Coast Living Contact us.
Florida Fishing Captains – Charter Fishing Tours


Everglades City Fishing Charters, currently leaving from Everglades Bait and Tackle, Everglades City, FL | 239-253-9926
Experience the wonder of the 10,000 islands of SWFL. Fish the protected bays and rivers of the Islands and Everglades National Park. Fish among the mysteries of wrecks, hard bottom reefs, and offshore towers. Seek some of the most exciting game fish that call the Florida Everglades Home.
Everglades City Fishing Charters - Everglades City, FL
---


Sunshine Tours and Fishing Charters, Rose Marina, 951 Bald Eagle Dr., Marco Island, FL | 239-642-5415
Sunshine Tours. Fish the 10,000 islands, the best in Off Shore, Back Water, and Near Coastal Fishing Charters. We know where the fish are. Also offering Marco Island Shelling Trips, and Sightseeing aboard one of our four fishing boats. Since 1984, Sunshine Tours has provided unsurpassed fishing charters, and on-the-water experiences for locals and visitors alike. Shared and private charters available. Contact us to book your Marco Island fishing charter.
Sunshine Tours & Charters - Marco Island, FL
---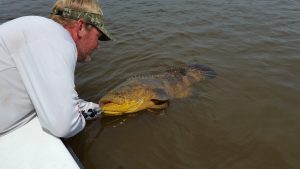 Notes about Goliath Grouper fishing about Catching and Releasing Goliath Grouper
If you capture a goliath grouper, the fish must be immediately released alive, unharmed, and with proper fish handling techniques.*
Do not remove large goliath groupers from the water. The skeletal structure of a large goliath grouper cannot support its weight out of the water and if brought aboard a vessel or removed from the water, the fish may sustain fatal injuries.
FWC recommends anglers also keep smaller goliath groupers in the water when removing a hook.
If a goliath grouper shows signs of barotrauma, use a descending device or venting tool to help the fish return to depth.
You can photograph your catch if you follow the recommendations listed here and if it does not delay the release of the fish in any way.
SHOP FISHING ESSENTIALS

| Photo | Title | Buy |
| --- | --- | --- |
| | RiverBum Tarpon Fishing Flies Assortment Kit with Fly Box, Poppers, Shrimp, Crab, Deceiver Flies for Fly Fishing - 14 Piece | On Sale |
| | Ghosthorn Fishing Rod and Reel Combo, Graphite Telescoping Fishing Pole Collapsible Portable Travel Kit with Carrier Bag for Freshwater Fishing Gift for Men Women | On Sale |
| | nako. 350 Pcs Tungsten Fishing Weights Sinkers Kit with Terminal Tackle Box | On Sale |
| | Redington Tropical Saltwater Fly Fishing Field Kit, 9' Medium-Fast Action Rod and Behemoth Reel, Saltwater Fly Line, Carrying Case | On Sale |
| | Surf Fishing Tackle Kit Ocean Saltwater Fishing Lures Surf Fishing Gear Fish Finder Rigs Pompano Rig Pyramid Sinker Weight Fishing Hooks Swivels Various Accessories | On Sale |
| | Sougayilang Fishing Rod Combos with Telescopic Fishing Pole Spinning Reels Fishing Carrier Bag for Travel Saltwater Freshwater Fishing-2.4M/7.87FT | On Sale |
| | PENN Spinfisher VI Live Liner Spinning Nearshore/Offshore Fishing Reel, HT-100 Front Drag, Max of 40lb | 18.1kg, Built with Carbon Fiber Washers,Black/Gold | On Sale |
| | Ghosthorn Fishing Rod and Reel Combo, Graphite Telescoping Fishing Pole Collapsible Portable Travel Kit with Carrier Bag for Freshwater Fishing Gift for Men Women | On Sale |
| | PENN Surfblaster III Longcast Fishing Reel - Long Distance Spool Surf Casting Reel for Saltwater Beach and Rock Fishing | On Sale |
| | PENN Fishing Penn Squall II Star Drag Conventional Reel and Fishing Rod Combo, Black/Gold, 30 Reel Size - 7' - Medium - 1pc (SQLII30SD2040C70) | On Sale |
| | Daiwa BG5000/1002MH Daiwa, BG Saltwater Pre-Mounted Combo, 5000, 6 + 1 Bearing, Spinning, 10', 2 Piece, Medium Heavy | On Sale |
| | EatMyTackle Blue Marlin Saltwater Spinning Rod and Reel Combo | On Sale |
| | PENN 6'6" Rival Level Wind Fishing Rod and Reel Conventional Combo, 6'6", 1 Tubular Fiberglass Fishing Rod with 2 Reel, Durable, Break Resistant and Lightweight | On Sale |
| | Costa Del Mar Men's Reefton Polarized Rectangular Sunglasses, Blackout/Green Mirrored Polarized-580G, 64 mm | On Sale |
| | Redington Fly Fishing Combo Kit 590-4 Path Ii Outfit with Crosswater Reel 5 Wt 9-Foot 4pc | On Sale |
Saltwater Fishing Lures For SW Florida

Saltwater Fishing Rods

Saltwater Fishing Reels

Sunscreen