SWFL Florida Vacation Rentals
Naples – Marco Island – Estero – Everglades – Bonita Beach Vacation Rentals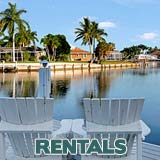 Vacation in Paradise! SW Florida Vacation homes and rentals are available on short-term (3 days or more) and seasonal oceanfront homes, condos, inland pool homes, and more. Paradise Coast vacation rental properties vary in price from less than $100/night (rare) to $800/night or even higher for some luxury condominiums or large homes.
Paradise Coast Living suggests utilizing the services of a reputable, licensed Florida Realtor or Vacation Rental home specialist.
Expect to pay for a cleaning fee, and of course, security deposits and/or a background check may be required. Some Florida communities and/or condominiums have 90-day requirements for seasonal renters, while others do not. Be sure to check the fine print including any cancelation fees before signing on. List your Florida vacation rental or SW FL real estate services or ask us about Paradise Coast Living, contact us.


Matt Brown, William Raveis Real Estate, 720 Fifth Avenue South, Naples, FL 34102 | 239-580-8864
Specializing in luxury homes and condominiums, Matt Brown has 18+ years of experience marketing and selling exceptional properties. He has closed over $500 million and skillfully negotiated over 100 highest and best multiple-bid sales. Unparalleled focus on every detail, his reputation continues to set the bar high in the industry.
Matt Brown, Bonita Springs, Estero, Naples, FL Real Estate Agent
---
Vacation Wear On Sale

20-count of individually wrapped pre-moistened Neutrogena Makeup Remover Face Wipe Singles. Individually wrapped facial cleansing towelettes are protected so you always have a fresh and effective wipe for complete cleansing and makeup removal
Makeup remover facial cleansing towelettes work to dissolve all traces of dirt, removes bacteria, impurities, oil and makeup on skin while also removing pollution, sweat and sunscreen, for superior cleansing and makeup removing power at your fingertips
Facial cleansing wet wipes are ophthalmologist-, dermatologist-, and allergy-tested and gentle on the eyes. The effective formula removes up to 99% of makeup--even stubborn waterproof mascara--without tugging
Our Clean Promise to you and the Planet. These facial cleansing wipes are made with 100% plant-based fibers, biodegrade in 35 days in home compost, and are formulated without phthalates, parabens, sulfates, alcohols, soaps, or dyes
Single-use wipes are disposable and thoroughly cleanse skin gently and leave behind no heavy residue, so there's no need to rinse. Plus, they're great to use in a daily beauty or skincare routine for a refreshing self-care experience anywhere
EltaMD UV Clear SPF 46 face sunscreen for oily skin contains 9.0% Zinc Oxide, Niacinamide and an antioxidant to promote healthy skin while blocking harmful UVA and UVB rays from the sun
Apply this face sunscreen for sensitive skin daily to help soothe sensitive skin types prone to acne, rosacea and hyperpigmentation
EltaMD UV Clear oil free sunscreen protects against breakouts and is an essential acne sunscreen for those with acne prone skin care concerns
Broad-spectrum SPF 46 coverage ensures this sensitive skin sunscreen helps protect you from the sun and is a daily face sunscreen for your everyday skin care needs
This Zinc Oxide sunscreen is a non greasy sunscreen sensitive skin lotion recommended by Dermatologists that is fragrance-free, paraben-free, sensitivity-free, and noncomedogenic
Hydration Multiplier is a great-tasting, non-GMO electrolyte drink mix powered by CTT to deliver hydration to the bloodstream faster and more efficiently than water alone. Passion Fruit is equal parts invigorating and refreshing with hints of honey and berry flavors.
Cellular Transport Technology, or CTT, is the breakthrough delivery system used in all Liquid I.V. products, designed to enhance rapid absorption of water and other key ingredients into the bloodstream.
Non-GMO and made with premium ingredients, Hydration Multiplier Electrolyte Powder Drink Mix contains 5 essential vitamins including Vitamins B3, B5, B6, B12 and Vitamin C. It's also gluten-free, soy-free, and dairy-free.
CONVENIENCE Single-serving, travel-friendly packets are easy to enjoy on the go. Pour one easy-to-open packet into 16 oz of water, mix or shake, and hydrate.
LIQUID I.V. GUARANTEE Returns are not permitted on the marketplace for this product category, however if for any reason you are not satisfied, please message our store through the marketplace messaging interface and we will refund your purchase.
With each purchase you make, we donate a serving to someone in need around the world. Liquid I.V. provides much-needed hydration in disaster zones, hospitals, impoverished communities, and emergency living quarters across the globe. Since 2015, we have donated over 19 million servings.