SW FL Gives
Harry Chapin Food Bank of Southwest Florida Fights Hunger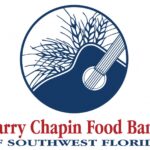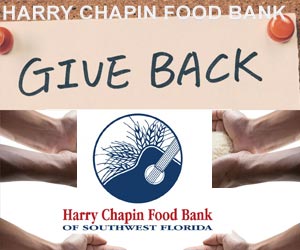 The people of SW Florida's Paradise Coast take pride in taking care of their less-fortunate neighbors.  The Harry Chapin Food Bank is a Florida non-profit agency that is making a real impact on people's lives. The Harry Chapin Food Bank is committed to a future where the people of Florida are free from hunger and you can help.
In 2020 alone The Harry Chapin Food Bank distributed 32.4 million pounds of food to hungry Floridians.  The Food Bank serves about a quarter of a million people a month through its food distribution programs here in SW FL.
We encourage you to support this important community service and thank you in advance for sharing, and giving.
History Harry Chapin Food Bank
The Harry Chapin Food Bank began on Long Island in 1980 and served a handful of agencies in Nassau and Suffolk Counties, New York. Today, the Harry Chapin Food Bank of Southwest Florida is the largest hunger-relief network in Southwest Florida, serving Charlotte, Collier, Glades, Hendry and Lee counties.  The Paradise Coast region's support for the program is enthusiastic and commendable.
Harry Chapin was a folk-rock singer-songwriter and performer active in many charitable causes. Chapin was only 38 years old when he was killed. The car he was driving was hit from behind by a tractor-trailer on the Long Island Expressway in Jericho, Long Island, NY.  Harry's widow, gave permission to rename the food bank in his honor in 1994.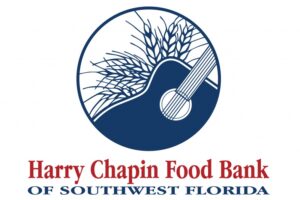 Harry Chapin Food Bank
3760 Fowler St, Fort Myers, FL 33901
239-334-7007
open 8:00am – 4:30pm
facebook.com/HarryChapinFoodBank
web: harrychapinfoodbank.org
harrychapinfoundation.org
The Harry Chapin Food Bank of Southwest Florida is proud to honor a man who contributed his talent, energy, and passion to fighting hunger in Southwest Florida and across the nation. Make a contribution or donate your time by contacting the Harry Chapin Food Bank direct. Thank you for supporting the valuable non-profit agencies of Florida's Paradise Coast. To add your non-profit listing or business contact us.
HARRY CHAPIN ON YOUTUBE
SW FL BUSINESSES FROM PARADISE COAST LIVING


Avi's Water Sports Jet Ski Adventure Tours, Caxambas Park, 909 Collier Ct., Marco Island, FL 34145 | 239-777-9873
Avi's is a family-owned business that offers some of the most exciting dolphin jet ski tours and jet ski rental adventures on Marco Island. You are invited to take an exciting journey with Avi "The Dolphin Whisperer" and take home a complimentary flash drive of photos from your adventure. Bring the family and make lasting memories. Contact us to book your dolphin Jet Ski tour.
Avi's Water Sports & Jet Ski Adventure Tours - Marco Island, FL
---


Sunshine Tours and Fishing Charters, Rose Marina, 951 Bald Eagle Dr., Marco Island, FL | 239-642-5415
Sunshine Tours. Fish the 10,000 islands, the best in Offshore, Back Water, Off Shore, and Near Coastal Fishing Charters. We know where the fish are. Also offering Marco Island Shelling Trips, and Sightseeing aboard one of our four fishing boats. Since 1984, Sunshine Tours has provided unsurpassed fishing charters, and on-the-water experiences for locals and visitors alike. Shared and private charters available. Contact us to book your Marco Island fishing charter.
Sunshine Tours & Charters - Marco Island, FL
---


Marco Island Princess / Sunshine Tours, Rose Marina, 951 Bald Eagle Dr., Marco Island FL 34145 | 239-642-5415
The Marco Island Princess is a 90' luxury yacht offering daily Sightseeing, Lunch and Sunset Dinner Cruises. All of our delicious meals are prepared fresh on board for your enjoyment. Our professional and friendly crew will attend to your every need. Two full service cash bars serving up all of your favorite drinks! Also available for Weddings and Private Charters. Marco Island's most unique dining experience!
Visit The Marco Island Princess - Marco Island, FL
---


Island Bike Shops (2 Locations) 1095 Bald Eagle Dr., Marco Island, FL 34145 | 239-394-8400 & 4342 Thomasson Dr., Naples, FL 34112 | 239-732-8400
At Island Bike Shops we make your visit fun. Reserve your rental online. Check our selection of bicycle rentals, electric bikes, motor scooters, trailers, and more. Naples Bicycle Tours provides a unique opportunity for residents and visitors to experience the diversity of Southwest Florida. Our large or small group bicycle tours can accommodate all cycling levels as we personally escort you through Naples, Historic Old Naples, Marco Island, or the Natural Everglades.
Visit Island Bike Shops - Marco Island & Naples
---


Naples Bicycle Tours, Naples, FL 34113 | 239-580-7960
Naples Bicycle Tours provides a unique opportunity for visitors and residents to experience the natural Florida Everglades, up close and personal. Connect with nature on this 3-hour historic & ecotour in the heart of the Glades. All tours include everything needed for the adventure: custom-fit cycle, helmet, drinks, snacks, and a certified FL naturalist guide.
Naples Bicycle Tours - Naples, FL
---


Naples Bicycle Tours, Naples, FL 34113 | 239-580-7960
Naples Bicycle Tours provides a unique opportunity for visitors and residents to experience Marco Island, the Natural Florida Everglades, and Historic Old Naples up close and personal, on a bicycle. All bike tours include everything needed for an amazing bicycling adventure: custom-fit cycle, helmet, drinks, snacks, and a certified FL naturalist guide.
Naples Bicycle Tours - Naples, FL
---


Go Cats On The Water - Port Of The Islands, Naples, FL | 239-748-4099
Marco and Naples Most Exciting Boat Tour. Explore the backwater and mangroves for an unforgettable adventure in Southwest Florida. Everglades Backwater Sightseeing Eco-Tours in our safe, and easy to drive boats. Choose a 75 minute or a 3 hour tour. Our custom Go-Cat boats are fun for all ages and can easily be operated by both younger adults and seniors.
GoCatsOnTheWater.com - Naples, FL
---
Contact Us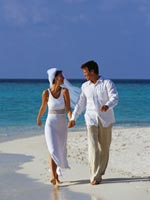 Paradise Coast Living