Florida Python Challenge
FL Everglades Annual Python Challenge – Burmese Python Hunt
Burmese Pythons are an invasive species that is wreaking havoc on the Everglades ecosystem. To help save the Everglades as we know it the State of Florida has developed a unique solution. It is called The Python Challenge.
What is the Python Challenge? The Python Challenge is an annual Python Capture event that features valuable cash prizes and awards to individuals who capture and euthanize Burmese Pythons. The Python Challenge began in 2013.
The dates for the 2022 event are August 5 through August 14th. The annual Python Challenge is a Florida Fish and Wildlife Conservation Commission-sanctioned competition. The competition is based in the Everglades. The goal is for participants to attempt to capture and kill as many Burmese pythons as possible.
Previous attempts at controlling this giant snake invasion have been primarily ineffective, mostly due to the fact that the pythons are well camouflaged and exceptionally difficult to find. The number of Burmese Pythons living in the Everglades is estimated to be well over 100,000 snakes.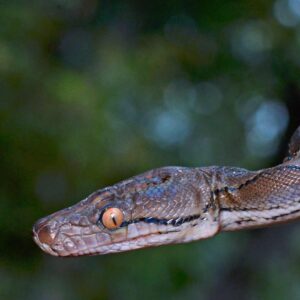 The video below depicts an actual Python Hunt in Florida. Thank you for visiting and bookmarking https://paradisecoastliving.com.

PYTHONS IN THE EVERGLADES
For additional information about the annual Florida Python Challenge visit https://flpythonchallenge.org.  You will find the official rules and regulations and a list of prizes available to win for catching and killing Burmese Python Snakes in Florida.  Add your Florida store, shop,  or service, contact us. Thank you for visiting Paradise Coast Living.
BURMESE PYTHON GIFTS TOYS & BOOKS

| Photo | Title | Buy |
| --- | --- | --- |
| | VIAHART Alba The Albino Burmese Python - 100 Inch Long Stuffed Animal Plush Snake - by Tiger Tale Toys | On Sale |
| | Albino Burmese Python T Shirt Golden Python Snake Shirt | On Sale |
| | Aurora® Realistic Snake Albino Burmese Python Stuffed Animal - Lifelike - Versatile Fun - Yellow 50 Inches | On Sale |
| | EcoBuddiez Sssnakes - Burmese Python from Deluxebase. 55" Soft Toy Snake Stuffed Animal. Soft Plush Made from Recycled Plastic Bottles. Perfect Eco-Friendly Snake Toy for Boys and Girls. | On Sale |
| | Invasive Pythons in the United States: Ecology of an Introduced Predator (Wormsloe Foundation Nature Books) | On Sale |
| | VIAHART Bernard The Brown Python - 9 5 Foot Long Stuffed Animal Plush Snake - by Tiger Tale Toys | On Sale |
| | 2pcs Realistic Fake Snakes Toy Rubber Snake Figure for Halloween Prank Props Fake Snake Scare Birds and Squirrels, Boa Constrictor Figurines (Pack of 2) | On Sale |
| | Python Catchers: Saving the Everglades | On Sale |
| | Pelgio Genuine Python Snake Skin Leather Handmade Cowboy Dress Belt 46" (Burmese Natural) | On Sale |
| | 150cm Lifelike Anaconda Snake Plush Puppet Toy Pillow Soft boa Constrictor, Glove Doll Snake-Shaped, high-Simulation Burmese Python Cushion Gifts,59''(Only for Age 14+) | On Sale |
| | Pelgio Genuine Python Snake Skin Leather Women's Trifold Clutch Wallet (Burmese Natural) | On Sale |
| | Pelgio Genuine Python Snake Skin Leather Bifold Wallet (Burmese Natural) | On Sale |
| | Ufurty Realistic Remote Control RC Snake Toy Fast Moving 30" Long Simulation Fake Rattlesnake Robotic Toy Animal Crawlers Battery Power Snake Controller Detachable Snake Scary Trick Toy for Kids | On Sale |
| | VIAHART Gustavo The Green Anaconda - 100 Inch Stuffed Animal Plush - by Tiger Tale Toys | On Sale |
| | Wrangler Hobo Handbags for Women PU Leather Woven Shoulder Bags Ladies Fashion Snake Printing Bucket Bag Large Drawstring Tote Purse with Tassel | On Sale |
| | Plush Giant Snake Realistic Stuffed Animal Red Eyes Toy Gifts for Boys and Girls 110 Inches (Yellow) | On Sale |
Southwest Florida Attractions


Marco Island Princess / Sunshine Tours, Rose Marina, 951 Bald Eagle Dr., Marco Island FL 34145 | 239-642-5415
The Marco Island Princess is a 90' luxury yacht offering daily Sightseeing, Lunch and Sunset Dinner Cruises. All of our delicious meals are prepared fresh on board for your enjoyment. Our professional and friendly crew will attend to your every need. Two full service cash bars serving up all of your favorite drinks! Also available for Weddings and Private Charters. Marco Island's most unique dining experience!
Visit The Marco Island Princess - Marco Island, FL
---


Go Cats On The Water - Port Of The Islands, Naples, FL | 239-748-4099
Marco and Naples Most Exciting Boat Tour. Explore the backwater and mangroves for an unforgettable adventure in Southwest Florida. Everglades Backwater Sightseeing Eco-Tours in our safe, and easy to drive boats. Choose a 75 minute or a 3 hour tour. Our custom Go-Cat boats are fun for all ages and can easily be operated by both younger adults and seniors.
GoCatsOnTheWater.com - Naples, FL
---


Avi's Water Sports Jet Ski Adventure Tours, Caxambas Park, 909 Collier Ct., Marco Island, FL 34145 | 239-777-9873
Avi's is a family-owned business that offers some of the most exciting dolphin jet ski tours and jet ski rental adventures on Marco Island. You are invited to take an exciting journey with Avi "The Dolphin Whisperer" and take home a complimentary flash drive of photos from your adventure. Bring the family and make lasting memories. Contact us to book your dolphin Jet Ski tour.
Avi's Water Sports & Jet Ski Adventure Tours - Marco Island, FL
---


Naples Bicycle Tours, Naples, FL 34113 | 239-580-7960
Naples Bicycle Tours provides a unique opportunity for visitors and residents to experience Marco Island, the Natural Florida Everglades, and Historic Old Naples up close and personal, on a bicycle. All bike tours include everything needed for an amazing bicycling adventure: custom-fit cycle, helmet, drinks, snacks, and a certified FL naturalist guide.
Naples Bicycle Tours - Naples, FL
---


Island Bike Shops (2 Locations) 1095 Bald Eagle Dr., Marco Island, FL 34145 | 239-394-8400 & 4342 Thomasson Dr., Naples, FL 34112 | 239-732-8400
At Island Bike Shops we make your visit fun. Reserve your rental online. Check our selection of bicycle rentals, electric bikes, motor scooters, trailers, and more. Naples Bicycle Tours provides a unique opportunity for residents and visitors to experience the diversity of Southwest Florida. Our large or small group bicycle tours can accommodate all cycling levels as we personally escort you through Naples, Historic Old Naples, Marco Island, or the Natural Everglades.
Visit Island Bike Shops - Marco Island & Naples
---
FLORIDA MADE & FLORIDA FAMOUS – BUY FLORIDA PRODUCTS