Isles of Capri Florida
SW Florida Paradise Coast Living
Exploring the Charms of Isles of Capri, Florida
Nestled along the Gulf of Mexico in Collier County, Florida, the Isles of Capri is a hidden gem boasting a rich history, vibrant community, and natural beauty that captivates residents and visitors alike. This Paradise Coast fun-oriented village is a popular destination for boating, dining, and outdoor recreation.
Read about the history of Isles of Capri, its early settlers, notable figures like Barefoot Williams, local businesses, employers, villages, districts, neighborhoods, parks, recreation areas, hikes, historic sites, places of interest, real estate values and options, town office information, and the quality of life in Isles of Capri, FL.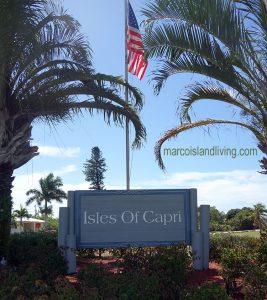 History of Isles of Capri
The history of the Isles of Capri dates back to the early 20th century when it was primarily a fishing village. The area was named after the Italian island of Capri due to its striking resemblance to the Mediterranean paradise. The first settlers were fishermen and their families who were drawn to the area for its abundant marine life and picturesque landscapes.
Early Settlers
The early settlers of the Isles of Capri were a close-knit community of fishermen who relied on the rich waters of the Gulf for their livelihood. They built charming waterfront cottages and established a unique way of life centered around the sea. Their legacy can still be felt in the town's culture and the strong sense of community that persists to this day.
Barefoot Williams
One of the most celebrated figures in the history of Isles of Capri is Barefoot Williams. He was a legendary fishing guide and a true character known for his barefoot lifestyle and deep knowledge of the local waters. Barefoot Williams' love for the sea and the Isles of Capri made him an iconic figure in the area's history.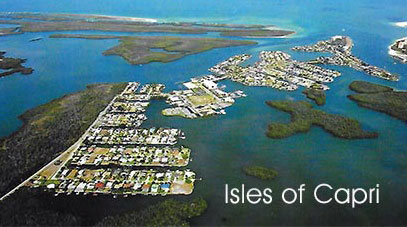 Local Businesses and Employers
Isles of Capri is home to a variety of local businesses, including seafood restaurants like Capri Fish House, Pelican Bend, Osteria Capri, Island Gypsy, boutiques, and art galleries. These establishments contribute to the unique charm and character of the community. Some of the notable employers in the area include fishing charters, boat tours, eco-tours, and real estate agencies.
Villages, Districts, and Neighborhoods
Isles of Capri is divided into several distinct villages, each with its own character and charm. The villages and neighborhoods include Capri Village, Tarpon Village, and more. These areas offer a mix of housing options, from waterfront estates to cozy cottages.
Parks, Recreation Areas, Hikes, and Historic Sites
The natural beauty of the Isles of Capri is a major draw for residents and visitors. The town offers several parks and recreation areas, including Capri Community Park, where you can enjoy picnicking, fishing, and birdwatching. There are also hiking trails that provide stunning views of the surrounding waters. Historic sites like Barefoot Beach Preserve add depth to the area's history.
Places of Interest
Isles of Capri is surrounded by captivating places of interest, such as the nearby cities of Marco Island, and Naples with its cultural attractions, shopping districts, and fine dining. The proximity to the Gulf of Mexico also means easy access to water-based activities like boating, fishing, and kayaking.
Real Estate Values and Options
The real estate market in Isles of Capri offers a range of options, from single-family homes to luxury waterfront properties. The allure of waterfront living with direct access to the Gulf has attracted homeowners and investors seeking a slice of paradise.
SHOP FL GIFTS

| Photo | Title | Buy |
| --- | --- | --- |
| | Madison Park Wall Art Living Room Décor - Handpainted Capiz Windowpane Oyster Shells Shadowbox Frame, Home Accent, Bedroom Decoration, Ready to Hang, 12.26"W x 24.26"H x 1.2"D, Natural/Gold 2 Piece | On Sale |
| | Teal Beach Seashell Wall Art Bathroom Decor Aqua Blue Beach Starfish Wall Decor Kitchen Coastal Artwork Vintage Rustic Conch Sea Shells Canvas Pictures Nautical Bedroom Home Decorations 12x12" 4 Pcs | On Sale |
| | Beach Seashell Canvas Wall Art: Coastal Seascape Nature Picture Seaside Sand Sea Wave Landscape Print Relaxing Blue Ocean Scene Painting Artwork Contemporary Artwork for Bathroom Bedroom Living Room | On Sale |
| | Beach Framed Wooden Wall Art: Ocean Artwork Set of 4 Starfish Seashell & Sand Dollar Pictures Prints Seascape Wall Decor for Bedroom | On Sale |
| | 2pcs Beach Scoop Sand Sifter Shark Tooth Sifter Tool Sand Collect Seashell Shovel and Sifter for Beach Adjustable Long Handle Shovel,21.2in~33.8in Extra Long Stretch Shovel with 4.3in/5.5in Sifter | On Sale |
| |  Large Natural Sea Shells, Murex Ramosus shells, Huge Ocean Conch 7-8 inches Jumbo Seashells Perfect for Wedding Decor Beach Theme Party, Home Decorations,DIY Crafts, Fish Tank and Shell Collectors | On Sale |
| | WateLves Water Shoes for Womens Mens Barefoot Quick-Dry Aqua Socks for Beach Swim Surf Yoga Exercise New Translucent Color Soles (Fishscale-Bluegreen, 34/35) | On Sale |
| | Striped Fox Sea Shell | 3 Striped Fox Conch Sea Shells | 3"-4" Collector Shell |3 piece Set for Display or Decor | Plus Free Nautical Ebook by Joseph Rains | On Sale |
| | Frabill PVC Baitwell Net, Multi, One Size (3240) | On Sale |
| | Liliful 3 Pcs Shelling Tools for Beach Include Sand Sifter with Extra Long Adjustable Handle, Mesh Beach Bag and Beach Mesh Shovel, Sand Scoop for Kids Girls Boys Collecting Shells Beach Toys | On Sale |
| | Vodolo Beach Mesh Shovel with Mesh Beach Bag for Shell Collecting, Kids Filter Sand Scooper for Picking Up Shells, Shark Tooth Sifter Dipper for Boys and Girls, Toy | On Sale |
| | Shell Boob Print Original Seashell Beach Line-art Shell Boob T-Shirt | On Sale |
| | JAPO ART Turquoise Shell by PI Creative Art Modern seashells Wall beach Pictures Vintage Artwork Framed Giclee Print on Canvas Stretched Living Room Bedroom 16 x 16 inch x 2 pcs | On Sale |
| | Sea, Shells and Shorelines: Photographic Images for Use in Personal Art | On Sale |
| | Jackie Kennedy Triple Strand Shell Pearl Necklace 18 Inch Length JBK | On Sale |
| | Baroque Pearls Pendant Necklaces Freshwater Cultured Pearls Necklace Pendant 18K Gold Paperclip Chain Necklaces 22inch for Women Girls Vintage Jewelry | On Sale |


Avi's Water Sports Jet Ski Adventure Tours, Caxambas Park, 909 Collier Ct., Marco Island, FL 34145 | 239-777-9873
Avi's is a family-owned business that offers some of the most exciting dolphin jet ski tours and jet ski rental adventures on Marco Island. You are invited to take an exciting journey with Avi "The Dolphin Whisperer" and take home a complimentary flash drive of photos from your adventure. Bring the family and make lasting memories. Contact us to book your dolphin Jet Ski tour.
Avi's Water Sports & Jet Ski Adventure Tours - Marco Island, FL
---


Sunshine Tours and Fishing Charters, Rose Marina, 951 Bald Eagle Dr., Marco Island, FL | 239-642-5415
Sunshine Tours. Fish the 10,000 islands, the best in Off Shore, Back Water, and Near Coastal Fishing Charters. We know where the fish are. Also offering Marco Island Shelling Trips, and Sightseeing aboard one of our four fishing boats. Since 1984, Sunshine Tours has provided unsurpassed fishing charters, and on-the-water experiences for locals and visitors alike. Shared and private charters available. Contact us to book your Marco Island fishing charter.
Sunshine Tours & Charters - Marco Island, FL
---


Marco Island Princess / Sunshine Tours, Rose Marina, 951 Bald Eagle Dr., Marco Island FL 34145 | 239-642-5415
The Marco Island Princess is a 90' luxury yacht offering daily Sightseeing, Lunch and Sunset Dinner Cruises. All of our delicious meals are prepared fresh on board for your enjoyment. Our professional and friendly crew will attend to your every need. Two full service cash bars serving up all of your favorite drinks! Also available for Weddings and Private Charters. Marco Island's most unique dining experience!
Visit The Marco Island Princess - Marco Island, FL
---


Island Bike Shops (2 Locations) 1095 Bald Eagle Dr., Marco Island, FL 34145 | 239-394-8400 & 4342 Thomasson Dr., Naples, FL 34112 | 239-732-8400
At Island Bike Shops we make your visit fun. Reserve your rental online. Check our selection of bicycle rentals, electric bikes, motor scooters, trailers, and more. Naples Bicycle Tours provides a unique opportunity for residents and visitors to experience the diversity of Southwest Florida. Our large or small group bicycle tours can accommodate all cycling levels as we personally escort you through Naples, Historic Old Naples, Marco Island, or the Natural Everglades.
Visit Island Bike Shops - Marco Island & Naples
---


Naples Bicycle Tours, Naples, FL 34113 | 239-580-7960
Naples Bicycle Tours provides a unique opportunity for visitors and residents to experience the natural Florida Everglades, up close and personal. Connect with nature on this 3-hour historic & ecotour in the heart of the Glades. All tours include everything needed for the adventure: custom-fit cycle, helmet, drinks, snacks, and a certified FL naturalist guide.
Naples Bicycle Tours - Naples, FL
---


Go Cats On The Water - Port Of The Islands, Naples, FL | 239-748-4099
Marco and Naples Most Exciting Boat Tour. Explore the backwater and mangroves for an unforgettable adventure in Southwest Florida. Everglades Backwater Sightseeing Eco-Tours in our safe, and easy to drive boats. Choose a 75 minute or a 3 hour tour. Our custom Go-Cat boats are fun for all ages and can easily be operated by both younger adults and seniors.
GoCatsOnTheWater.com - Naples, FL
---
Contact Us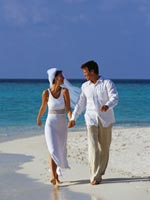 Paradise Coast Living