Venice Florida
SW Florida Paradise Coast Living
Welcome to Venice, Florida, a thriving city located on the beautiful Gulf Coast. With its stunning waterfront restaurants, ocean views, and abundant recreational opportunities, Venice offers the Florida Lifestyle for both residents and visitors. Venice is named for Venice, Italy.
Discovering Venice, Florida: Where Coastal Charm Meets Modern Elegance
Nestled along Florida's Gulf Coast, Venice is a breathtaking city that perfectly marries a rich history with contemporary living. With its stunning beaches, vibrant local businesses, and a wide range of recreational opportunities, Venice has become a sought-after destination for both residents and visitors.
History of Venice:
Venice's history dates back to the 1920s when it was conceived as a planned community by the Brotherhood of Locomotive Engineers. The city's architecture was heavily influenced by Italian Renaissance design, resulting in a unique and charming aesthetic. The Venice Historic District showcases this design with its distinctive Mediterranean-style buildings and charming boulevards.
Local Businesses:
Venice offers a diverse array of local businesses that cater to residents and tourists alike. The downtown area is a hub of boutiques, art galleries, and restaurants. From artisanal crafts to gourmet dining, the city's local businesses contribute to its distinctive character.
Villages, Districts, and Neighborhoods:
Venice is composed of various neighborhoods, each with its own identity:
Venice Island: Known for its historic charm and proximity to the beach, Venice Island offers a mix of quaint cottages and luxurious waterfront properties.
South Venice: A residential community known for its canals and access to the Intracoastal Waterway, offering a boater's paradise.
Plantation: Featuring the renowned Plantation Golf and Country Club, this area offers upscale living with golf course views.
Parks, Beaches, and Recreation Areas:
Venice's coastline is a defining feature, with its pristine beaches and stunning sunsets. Venice Beach and Caspersen Beach are popular spots for sunbathing, swimming, and shark tooth hunting. The city maintains numerous parks and recreational areas that provide opportunities for picnicking, sports, and enjoying the outdoors.
Hikes and Nature Trails: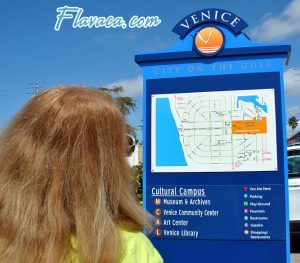 Nature enthusiasts will find solace in the city's network of hiking and nature trails. Oscar Scherer State Park offers diverse ecosystems, including pine flatwoods and wetlands, and is perfect for birdwatching and hiking.
Historic Sites and Places of Interest:
Venice's historical roots are evident in its landmarks and sites. The Venice Train Depot is a testament to the city's founding, and the Venice Theater is a historic gem that continues to host performances.
Real Estate Values and Housing Options:
The real estate market in Venice offers a wide range of options. From beachfront condos to single-family homes with canal access, there's something for everyone. IslandWalk at the West Villages and Venetian Golf and River Club are popular gated communities known for their amenities and sense of community.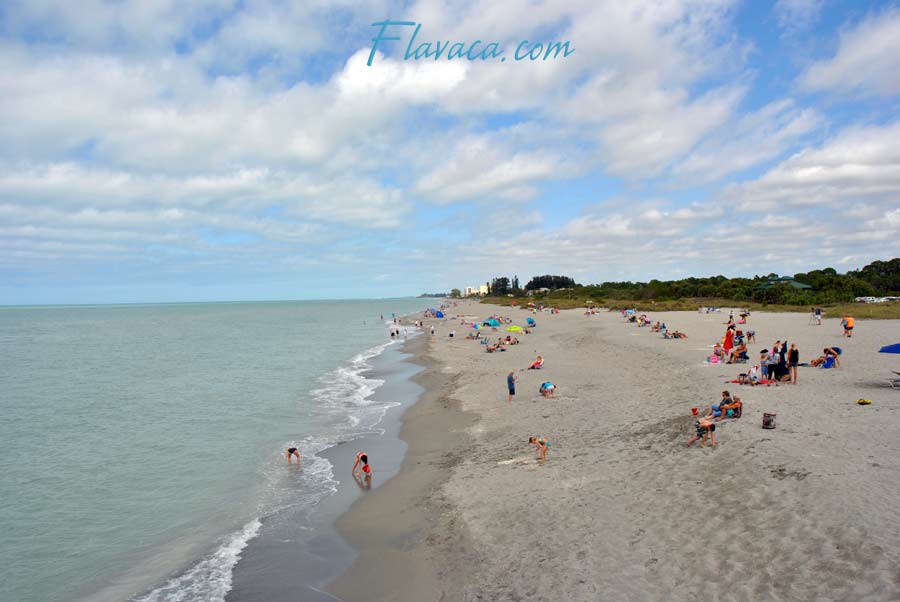 Quality of Life and Living:
Venice provides a high quality of life, characterized by its serene coastal environment, strong community ties, and cultural attractions. The city hosts events and festivals year-round, fostering a vibrant social scene. The warm climate and close proximity to the beach make it an attractive destination for retirees and those seeking an active outdoor lifestyle.
Venice, FL, seamlessly blends its rich history with modern living, offering residents and visitors a unique coastal experience. With its stunning beaches, charming architecture, and abundance of recreational opportunities, Venice stands as a testament to the allure of Florida's Gulf Coast.
Venice Florida City Hall
401 West Venice Avenue, Venice, FL 34285 | (941) 486-2626 | Fax (941) 480-3031
Official Venice Florida Municipal Website: https://venicegov.com
VENICE FL GIFTS

| Photo | Title | Buy |
| --- | --- | --- |
| | Venice, Florida, Sign Post (24x36 Giclee Gallery Print, Travel Poster Wall Decor) | On Sale |
| | Venice Florida Sea Turtle Summer Vacation Vintage T-Shirt | On Sale |
| | Venice Florida Beach Vacation Sunset T-Shirt | On Sale |
| | Venice Florida Beach Surf Summer Vacation Vintage T-Shirt | On Sale |
| | Posterazzi Blue Heron perching on a rocks South Jetty Venice Sarasota County Florida USA Poster Print, (27 x 9) | On Sale |
| | Womens Flamingo Art Venice Beach Florida Bird Lovers Venice Stylish V-Neck T-Shirt | On Sale |
| | Venice Florida Watercolor Sea Turtle Sweatshirt | On Sale |
| | Venice Florida Watercolor Sea Turtle Tank Top | On Sale |
| | Mens Venice Florida FL Vintage Sailboat Retro 70s Premium T-Shirt | On Sale |
| | Imagekind Wall Art Print entitled Venice Florida Map (1973) by Alleycatshirts | 8 x 9 | On Sale |
| | Venice Florida FL Retro Vintage Beach Front & Back Pullover Hoodie | On Sale |
| | JCombs: Venice, FL, Gliding Sea Turtle Hoodie | On Sale |
| | Venice Riders - Florida Bicycle Cycling T-shirt | On Sale |
| | Venice Beach Florida Local Retro Rainbow Original Venice Florida Beach Classic & Cool Throw Pillow, 16x16, Multicolor | On Sale |
| | Venice Florida FL Vintage Athletic Sports Design Pullover Hoodie | On Sale |


Avi's Water Sports Jet Ski Adventure Tours, Caxambas Park, 909 Collier Ct., Marco Island, FL 34145 | 239-777-9873
Avi's is a family-owned business that offers some of the most exciting dolphin jet ski tours and jet ski rental adventures on Marco Island. You are invited to take an exciting journey with Avi "The Dolphin Whisperer" and take home a complimentary flash drive of photos from your adventure. Bring the family and make lasting memories. Contact us to book your dolphin Jet Ski tour.
Avi's Water Sports & Jet Ski Adventure Tours - Marco Island, FL
---


Sunshine Tours and Fishing Charters, Rose Marina, 951 Bald Eagle Dr., Marco Island, FL | 239-642-5415
Sunshine Tours. Fish the 10,000 islands, the best in Off Shore, Back Water, and Near Coastal Fishing Charters. We know where the fish are. Also offering Marco Island Shelling Trips, and Sightseeing aboard one of our four fishing boats. Since 1984, Sunshine Tours has provided unsurpassed fishing charters, and on-the-water experiences for locals and visitors alike. Shared and private charters available. Contact us to book your Marco Island fishing charter.
Sunshine Tours & Charters - Marco Island, FL
---


Marco Island Princess / Sunshine Tours, Rose Marina, 951 Bald Eagle Dr., Marco Island FL 34145 | 239-642-5415
The Marco Island Princess is a 90' luxury yacht offering daily Sightseeing, Lunch and Sunset Dinner Cruises. All of our delicious meals are prepared fresh on board for your enjoyment. Our professional and friendly crew will attend to your every need. Two full service cash bars serving up all of your favorite drinks! Also available for Weddings and Private Charters. Marco Island's most unique dining experience!
Visit The Marco Island Princess - Marco Island, FL
---


Island Bike Shops (2 Locations) 1095 Bald Eagle Dr., Marco Island, FL 34145 | 239-394-8400 & 4342 Thomasson Dr., Naples, FL 34112 | 239-732-8400
At Island Bike Shops we make your visit fun. Reserve your rental online. Check our selection of bicycle rentals, electric bikes, motor scooters, trailers, and more. Naples Bicycle Tours provides a unique opportunity for residents and visitors to experience the diversity of Southwest Florida. Our large or small group bicycle tours can accommodate all cycling levels as we personally escort you through Naples, Historic Old Naples, Marco Island, or the Natural Everglades.
Visit Island Bike Shops - Marco Island & Naples
---


Naples Bicycle Tours, Naples, FL 34113 | 239-580-7960
Naples Bicycle Tours provides a unique opportunity for visitors and residents to experience the natural Florida Everglades, up close and personal. Connect with nature on this 3-hour historic & ecotour in the heart of the Glades. All tours include everything needed for the adventure: custom-fit cycle, helmet, drinks, snacks, and a certified FL naturalist guide.
Naples Bicycle Tours - Naples, FL
---


Go Cats On The Water - Port Of The Islands, Naples, FL | 239-748-4099
Marco and Naples Most Exciting Boat Tour. Explore the backwater and mangroves for an unforgettable adventure in Southwest Florida. Everglades Backwater Sightseeing Eco-Tours in our safe, and easy to drive boats. Choose a 75 minute or a 3 hour tour. Our custom Go-Cat boats are fun for all ages and can easily be operated by both younger adults and seniors.
GoCatsOnTheWater.com - Naples, FL
---
Contact Us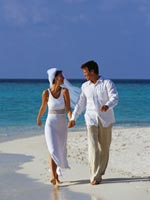 Paradise Coast Living