Backwater Fishing Charters
SWFL Fishing Captains & Everglades Charter Boats
If you have never heard of "Backwater Fishing" you should! Backwater fishing in the Florida Everglades is like nothing else on Earth. There are more than 100 species of fishing in the "near-shore" or "backwaters" of the Everglades and the 10,000 Islands.
Backwater fishing in southwest Florida typically refers to fishing in the shallow, calm waters of the Everglades or the backwaters of the 10,000 Islands, which are located along the Gulf Coast of Florida.
The fish species that are typically targeted in the backwaters of southwest Florida include snook, redfish, tarpon, trout, and various types of snapper and grouper. These species can be caught using a variety of techniques such as live bait, artificial lures, and fly fishing.
The backwaters of southwest Florida can be quite productive year-round. We suggest contacting a skilled Captain. A licensed Fishing Captain will be able to put you on fish no matter what time of year you go. Booking a Backwater Captain will also provide a fishing license, knowledge of the local waters, bait, rods, and reels, and many will even clean your catch!
The best times of year to go backwater fishing with a licensed Captain in southwest Florida will depend on the species you are targeting. Generally speaking, the winter months (December to February) are the best time to catch snook, redfish, and trout, while the spring and summer months (March to September) are the best time to catch tarpon. The waters of the Everglades offer excellent fishing during every season and with more than 100 species of fish the excitement of discovering what is on your line happens with every catch.
It's always best to consult with a local Captain to plan your backwater fishing trip based on the specific species you want to target and the time of year you plan
Share your Florida Fishing Captain news, catches, or suggestions. Thank you for visiting Paradise Coast, Florida. Contact us.
Everglades Fishing Captains – Charter Fishing Tours


Everglades City Fishing Charters, currently leaving from Everglades Bait and Tackle, Everglades City, FL | 239-253-9926
Experience the wonder of the 10,000 islands of SWFL. Fish the protected bays and rivers of the Islands and Everglades National Park. Fish among the mysteries of wrecks, hard bottom reefs, and offshore towers. Seek some of the most exciting game fish that call the Florida Everglades Home.
Everglades City Fishing Charters - Everglades City, FL
---


Sunshine Tours and Fishing Charters, Rose Marina, 951 Bald Eagle Dr., Marco Island, FL | 239-642-5415
Sunshine Tours. Fish the 10,000 islands, the best in Off Shore, Back Water, and Near Coastal Fishing Charters. We know where the fish are. Also offering Marco Island Shelling Trips, and Sightseeing aboard one of our four fishing boats. Since 1984, Sunshine Tours has provided unsurpassed fishing charters, and on-the-water experiences for locals and visitors alike. Shared and private charters available. Contact us to book your Marco Island fishing charter.
Sunshine Tours & Charters - Marco Island, FL
---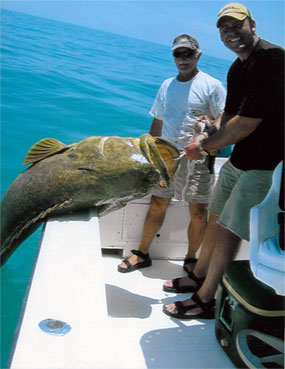 Notes about Goliath Grouper fishing about Catching and Releasing Goliath Grouper
If you capture a goliath grouper, the fish must be immediately released alive, unharmed, and with proper fish handling techniques.*
Do not remove large goliath groupers from the water. The skeletal structure of a large goliath grouper cannot support its weight out of the water and if brought aboard a vessel or removed from the water, the fish may sustain fatal injuries.
FWC recommends anglers also keep smaller goliath groupers in the water when removing a hook.
If a goliath grouper shows signs of barotrauma, use a descending device or venting tool to help the fish return to depth.
You can photograph your catch if you follow the recommendations listed here and if it does not delay the release of the fish in any way.
Saltwater Fishing Lures For SW Florida

Saltwater Fishing Rods

Saltwater Fishing Reels

Sunscreen